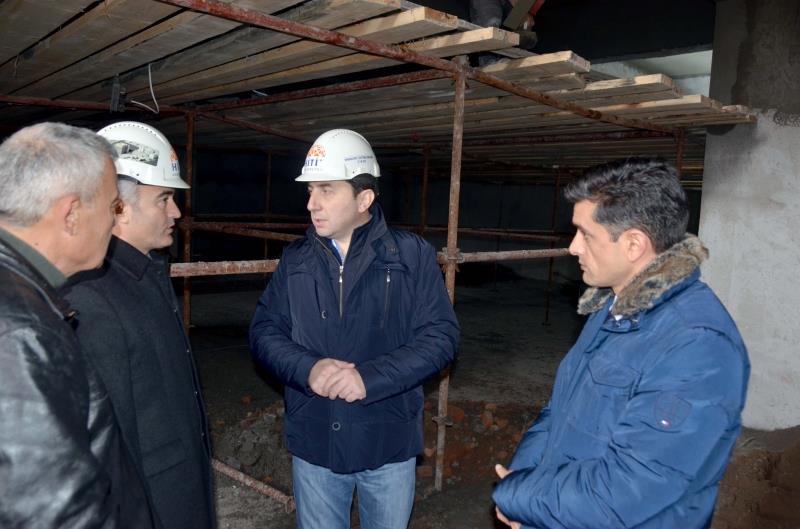 There have been important developments as the consequence of studies carried out in our university not only in the city centre but also in the Vocational Schools located in the districts. Campus construction in Sungurlu Vocational School (SVS) which has the highest number of students among vocational schools located in the districts is continuing rapidly. Having visited SVS campus construction the foundation of which was laid in June 2014, our Rector Prof. Dr. Reha Metin Alkan stated that there have been rapid and dramatic developments not only in the units located in Çorum city center but also in vocational schools located in the districts and the developments occurred till today is gladsome in SVS which has nearly 900 students in 8 programs 6 of which are normal education and 2 of which are evening education.

Rector Prof. Dr. Alkan informed that 48,510 m² land was assigned to SVS as a consequence of the studies conducted by Sungurlu District Governorate, Sungurlu Mayorship and Sungurlu public in 2011 providing a campus land for SVS and campus master plan was prepared and SVS 1st Phase construction started. Rector Prof. Dr. Alkan said that 20% of the 1st Phase the construction of which started approximately 5 months ago has been completed in such a short time and it is predicted to finish till the end of 2015. Besides, Rector Prof. Dr. Alkan stated that a student dormitory with 300-student capacity will be constructed by Credit and Dormitories Institution in the campus, the project is on the final stage and the construction will begin in the near future.
Stating that 2nd Phase construction will begin after the studies carried out and all these processes will be accelerated with the supports of charitable businessmen in Sungurlu, Rector Prof. Dr. Alkan informed that our campuses and buildings will be in accordance with international standards, environmentally friendly, energy conservation based, a model for all the aspects after all these studies finish. Rector Prof. Dr. Alkan expressed his thanks to Vocational School Director Assist. Prof. Dr. Kubilay Karacif and SVS academic staff for their supports.
When Sungurlu Vocational School 1st Phase campus construction has been completed, there will be a closed area six times bigger than the available building and it will include administrative offices, classes, laboratories, parking garage, prayer room for men and women. Within the concept of 2nd Phase construction, there will be conference hall with 475-people capacity, indoor sports hall and kindergarten providing a great campus for Sungurlu Vocational School.
Hitit University Rectorate
Kuzey Kampüsü Çevre Yolu Bulvarı 19030 Çorum / TURKEY