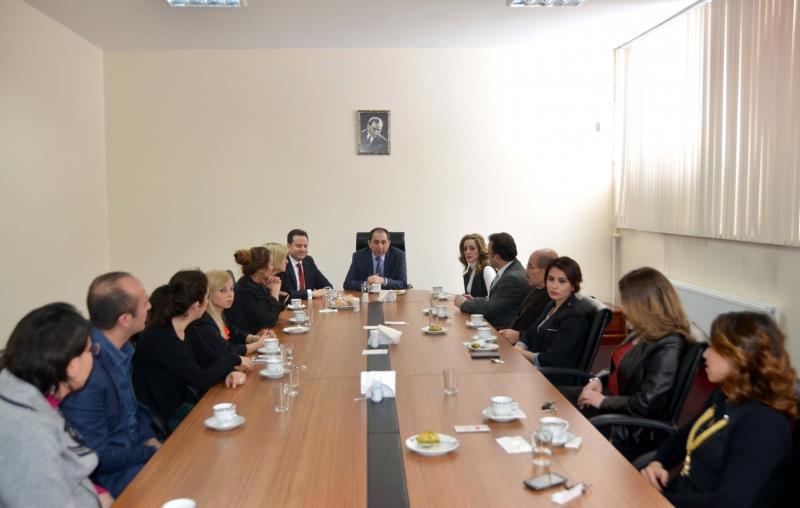 Our Rector Prof. Dr. Reha Metin Alkan visiting the academic units without a break met with Health School lecturers to make a general assessment of the situation.
Our Rector Prof. Dr. Alkan says he makes much of such meetings and they are necessary for our university. He gives general information about the projects in the university and ongoing works.
He mentions he is proud to serve for health staff highly needed in our country and Health School has the related departments in social services areas such as nursing, child development, nutrition and dietetics, physiotherapy and rehabilitation. He also gives information about the progress achieved in recent years in health care.
Our Rector Prof. Dr. Alkan puts emphasis on Scientific Research Projects which are carried out to strengthen scientific research of educational units, laboratory and the educational infrastructure and calls attention to the supports for international scientific events.
Rector Prof. Dr. Reha Metin Alkan states that getting the results of investments makes happy and beautiful and useful studies have been done as not only scientific but also beneficial to the society. Our university has come major improvements in almost all areas and these are the result of intensive efforts exerted altogether and synergy created with our university so our Rector Prof. Dr. Alkan thanks to all academic staff for their diligent and successful works.
Hitit University Rectorate
Kuzey Kampüsü Çevre Yolu Bulvarı 19030 Çorum / TURKEY