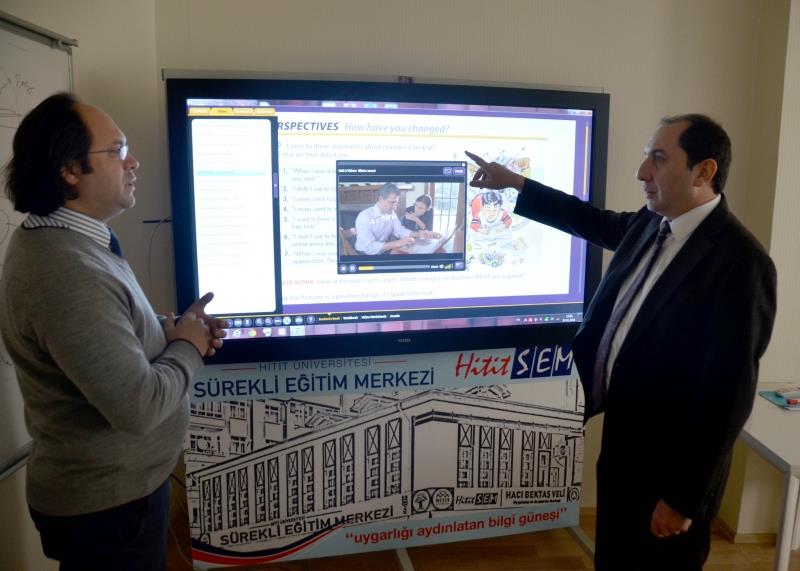 Our Rector Prof. Dr. Reha Metin Alkan visits Continuing Education Application and Research Center (HİTİTSEM) and receives information about the activities of the center.
Ass. Prof. Dr. Eşref Savaş Başcı, the manager of HİTİTSEM gives information about foreign language education, computer training and proof reading service and says that the Center has contributed to the emergence of the initials about foreign language.
He reports that 3 USA national lecturers and our university instructors provide education for General English, Foreign Language Exam (YDS) Preparatory Education, TOEFL, Pearson PTE and English Speaking Course besides Japanese course which continues as a class and will be 2 classes in the next term. He also says HİTİTSEM is an educational institution which is experiencing the first in language education in Çorum and there is a high demand for Italian course and in addition to it, Russian course will be opened after necessary process has been completed. Ass. Prof. Dr. Başcı says " Books and materials used in language education are original and the best books in the field. We take the advantage of Smart TV Software in General English Education and we are the first and the only education institution which uses Smart TV Software in Çorum and this software is installed on smart TVs formatted 4 pieces of 160 cm. Also, we enjoy all the blessings of interactive training, our foreign teachers provide service of Proof Reading according to the spelling and grammar rules for our academicians who write articles, rescript, book, etc. in English."
Stating that computer-based training is provided in the computer labs and these kinds of training will continue in the next term, Ass. Prof. Dr. Başcı thanks Rector Prof. Dr. Alkan for the visit and all the supports he has given.
Rector Prof. Dr. Alkan says "To see concrete progress as a result of hard work inspires pride on behalf of our university. As we support all of our units, we will go on supporting HİTİTSEM, as well." He gives his warm wishes to HİTİTSEM staff and thanks them for their hard work.
Hitit University Rectorate
Kuzey Kampüsü Çevre Yolu Bulvarı 19030 Çorum / TURKEY