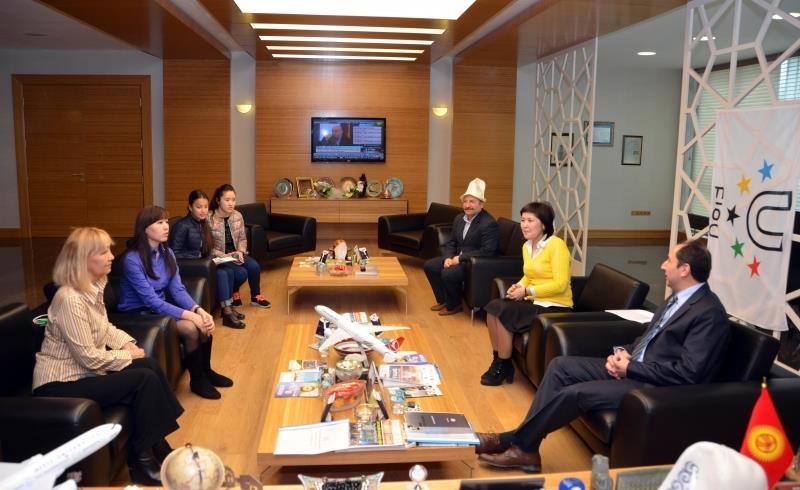 The exchange mobility of the academicians continues in our university which is an active practitioner of Mevlana Exchange Programme enabling the exchange of the students and academicians among the higher education institutions abroad and domestic institutions of higher education.
Our university makes much of internationalization in education which has become common day by day. Our univesity entering into agreements with 54 universities from 19 different countries is hosting 3 academicians from Kyrgyzstan who are qualified to lecture in our university through Mevlana Exchange Programme.
Inst. Kymbat Orozakulova, Inst. Gulnara Dzhusupbekova and Inst. Zhyldyz Shukurova from I.Arabaev Kyrgyz State University visited our Rector Prof. Dr. Reha Metin Alkan in his office and mentioned their appreciation about the programme and our university. The academicians said they had got the opportunity to get closely acquainted with our country and city and also have experience internationally. The academicians thanked our Rector Prof. Dr. Alkan for his and our university's hospitality.
Prof. Dr. Reha Metin Alkan expressed his gratitude to support international academic and cultural activities within the bounds of possibility and wished success to the academicians.
Hitit University, one of the universities activating Mevlana Exchange Programme in 2013-2014 Academic Year has hosted 32 students and 6 academicians through Mevlana Exchange Programme so far.
Hitit University Rectorate
Kuzey Kampüsü Çevre Yolu Bulvarı 19030 Çorum / TURKEY