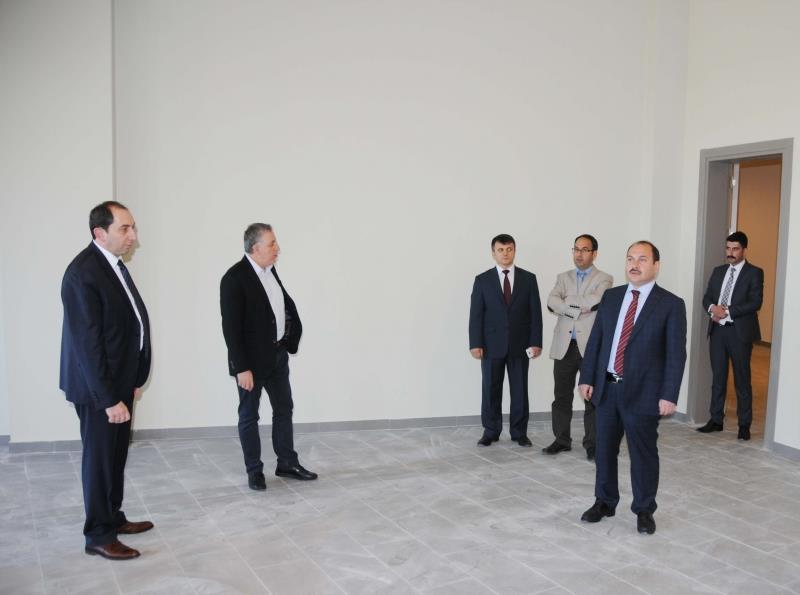 Our Rector Prof. Dr. Reha Metin Alkan in company with Sinpaş GYO(Real estate Investment Trust) board member Ahmet Çelik who came to our university to participate in the panel titled "New Horizons in Participation Banking, Alaca District Governor Ramazan Kurtyemez, Alaca Mayor Muhammet Esat Eyvaz, our university general secretary Erdal Kanık, Alaca Vocational School Director Assist. Prof. Dr. Sinan Çalışkan inspected Alaca Vocational School Campus.
Our Rector thanked Sinpaş GYO which has 40 year experince and is one of the biggest company in housing industry for its support to Alaca Vocational School which has now a modern appearance thanks to Sinpaş GYO. He also expressed his gratitude to all academic and administrative staff.
Our Rector Prof. Dr. Alkan explained that the campus would be activated in 2015 – 2016 Academic Year, they applied for changing the name of Alaca Vocational School as Alaca Avni Çelik Vocational School to YÖK (Higher Education Institution) and Alaca Vocational School would develop radiply with the students who would be accepted in the departments.
Hitit University Rectorate
Kuzey Kampüsü Çevre Yolu Bulvarı 19030 Çorum / TURKEY