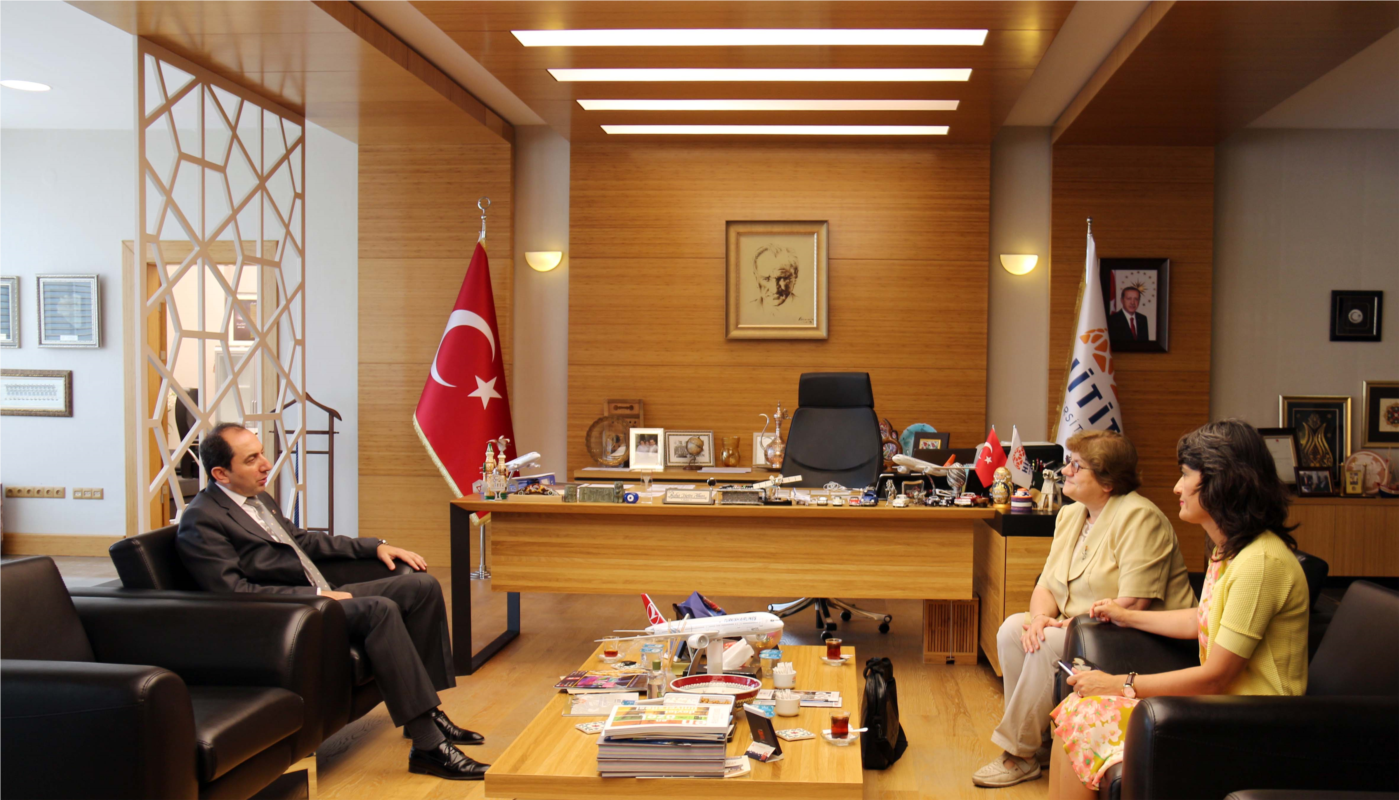 One more foreign academician has inaugurated in our university which attaches great importance to foreign language teaching and the development of international relations. 
Newly appointed to Turkish Language and Literature Department, Faculty of Science and Letters of our University Assoc. Prof. Dr. Liubovi Cimpoeş coming from Moldova Academy of Sciences as a foreign academician in company with Assoc. Prof. Dr. Meral Demiryürek, the Head of the Turkish Language and Literature visited our Rector Prof. Dr. Reha Metin Alkan. 
Rector Prof. Dr. Alkan says "Our University believes in the universality of science and the importance of international interaction as well was the need of educational activities not only at local level, but to be addressed in the international arena. To see concrete progress on this path inspires pride in terms of our university. Our university has increased its academic staff each passing day and demands from all over the world have been gradually rising. We will try to increase the number of foreign academic staff." Rector Prof. Dr. Alkan wished success for our foreign academician, Assoc. Prof. Dr. Liubovi Cimpoeş.
Taking up the position in our university Faculty of Science and Letters, Department of Turkish Language and Literature, Assoc. Prof. Dr. Liubovi Cimpoeşstated her satisfaction for beginning to work in our university and for the sincerity of our university.
Assoc. Prof. Dr. Liubovi Cimpoeş having a great number of scientific works regarding Gagauz literature, Russian literature and Turkish world literatures will give Turkish Folk Literature, Comparative Turkish World Literature courses. Furthermore, she will help our university make contact with universities and centers in various countries especially Moldova and Russia regarding bilateral cooperations, mutual projects, student and academic staff mobility. 
The number of foreign academician has reached 12 in our university having bilateral agreements with 125 universities in 46 countries and 4 continents.
Hitit University Rectorate
Kuzey Kampüsü Çevre Yolu Bulvarı 19030 Çorum / TURKEY