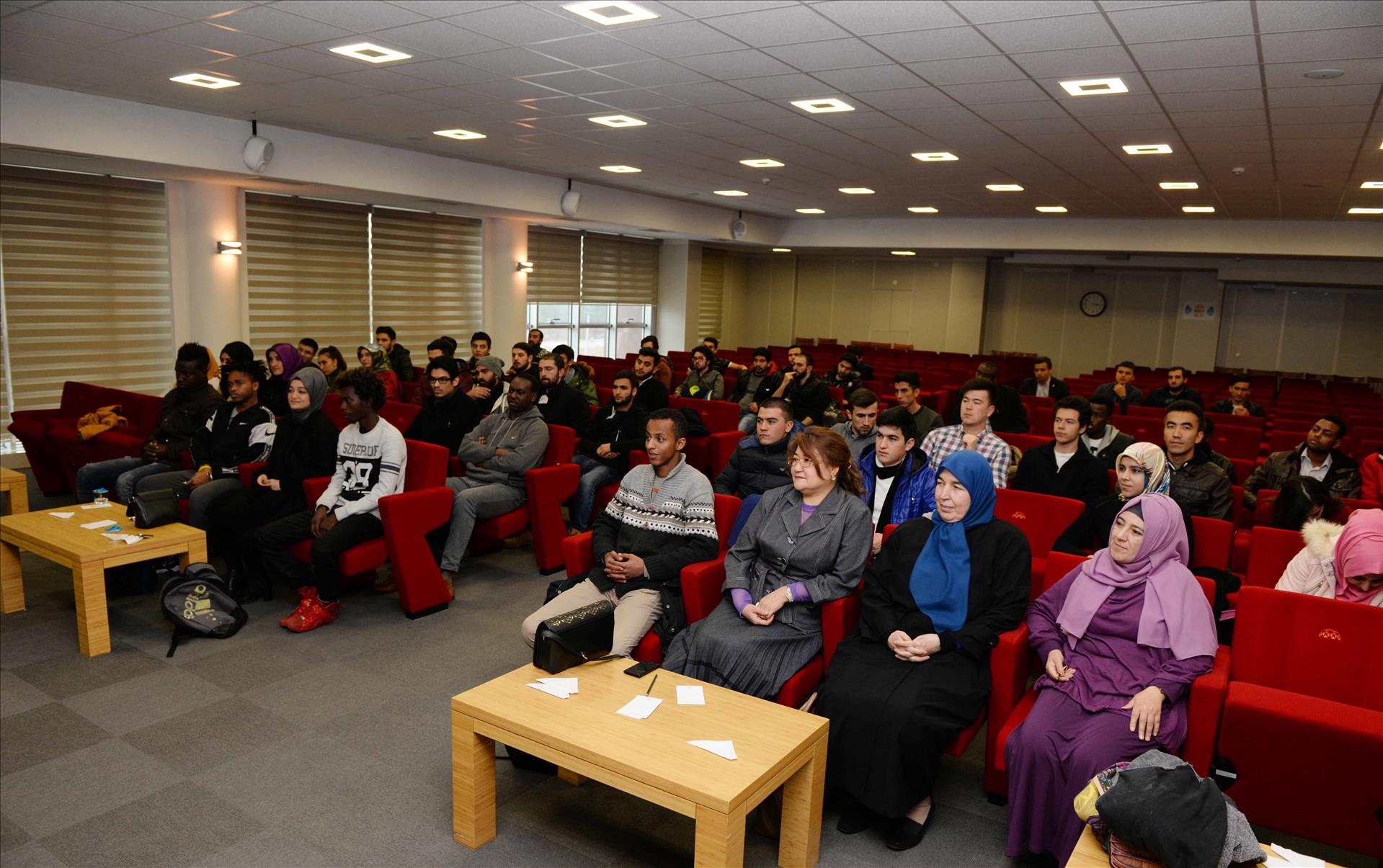 Our Rector Prof. Dr. Reha Metin Alkan came together with foreign students who are studying in our university. Our Vice Rector Prof. Dr. Mustafa Bıyık, Assoc. Prof. Dr. Abdurrahman Asan who is the coordinator of Mevlana Exchange Program and the Head of Student Affairs Ömer Çırak also participated in the meeting.
Our Rector Prof. Dr. Reha Metin Alkan began his speech by saying "We are really glad and proud to come together with you." during the program for meeting with our foreign students, listening to their problems and finding solutions for these problems.
Stating the advantages of being in our university and living in Çorum, our Rector Prof. Dr. Alkan said "We have almost 200 international students from different countries all over the world. To be with you motivates both our university and Çorum. You may face some problems but this is possible anywhere in the world. First of all, I would like to state that we have all kinds of infrastructure as a university. At the same time, living in Çorum is a good opportunity for you when compared to living in big cities. Thus, please try to get maximum knowledge in this city. We are ready to give all support as we can."
Besides, he stated that number of students in our university rises steadily from 8 thousands to 18 thousand and the student profile has developed not only quantitatively but also qualitatively, saying "We have many common identities with you. As Hitit University, we do not aim to gain profit from international students. My wish for you is to establish a bond between Turkey and your own country. We have many common values with you especially in national and cultural areas. Do not linger on problems, think globally." 
Prof. Dr. Alkan, getting inspired from a poem of Necip Fazıl, said, "You should aspire to be a person who can change all. You should work hard to be individuals who can use technology splendidly and improve themselves. The world is developing constantly."
Emphasizing internationalization and relationships between countries, Prof. Dr. Alkan stated, "Your being here has a special meaning for me. We will endeavor to increase your number. In addition to educational activities, I request you to conduct projects and studies for collaborating with your countries. The aim of your being here is also to develop collaboration between countries. So, you will be cultural ambassadors."
Prof. Dr. Alkan explained that international students can continue their education in master and doctorate degree programs in our university according to the quotas for international students. Also, the students can benefit from the courses in HİTİTSEM (Continuing Education Center). 
In the meeting continued with question - answer session, Rector Prof. Dr. Reha Metin Alkan stated that they were ready for providing the international students with any moral and material support within the bounds of possibility. 
Hitit University Rectorate
Kuzey Kampüsü Çevre Yolu Bulvarı 19030 Çorum / TURKEY