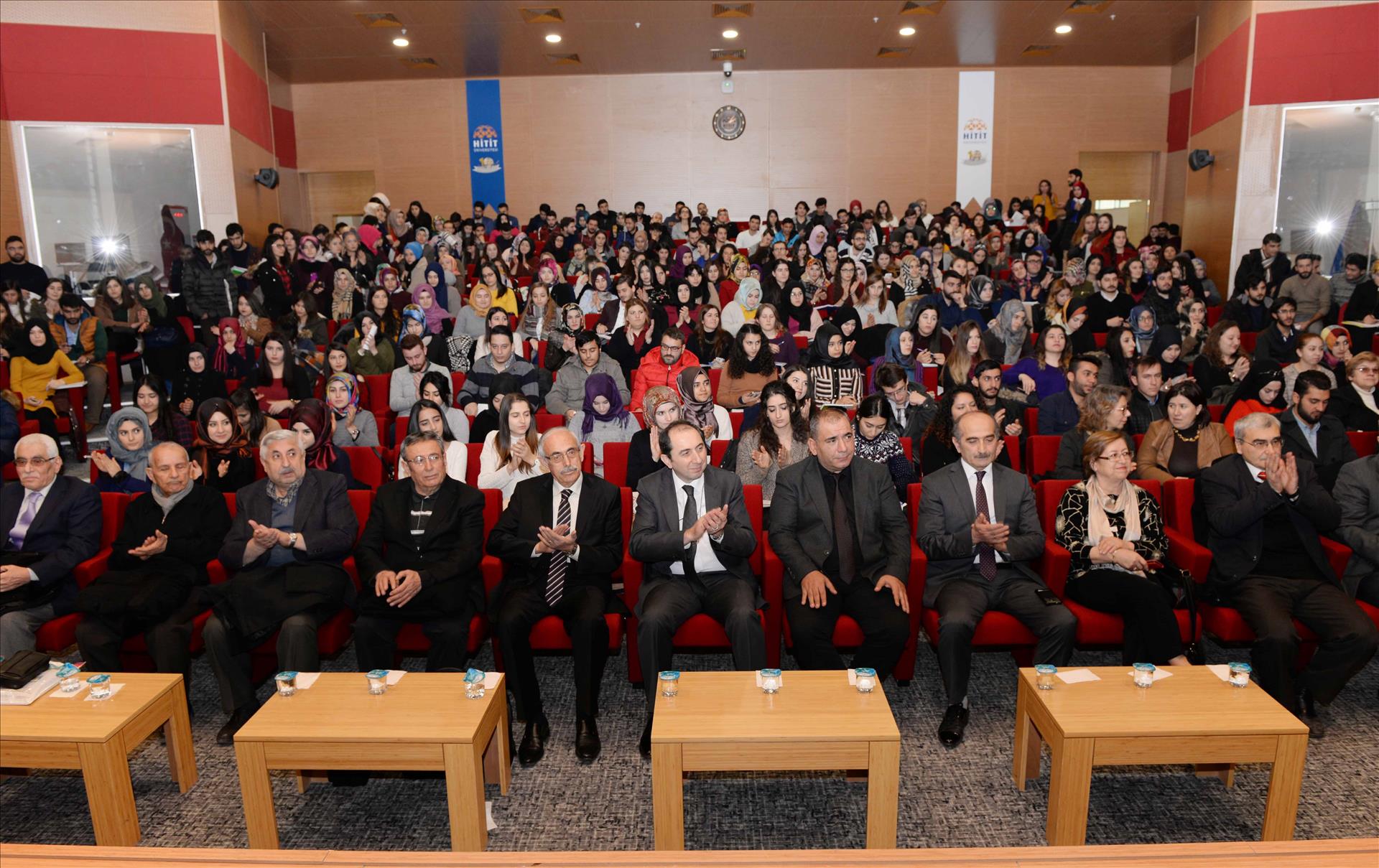 Within our university's 10th Establishment Year Activities, the conference titled "Arif Nihat Asya, Poet of Flag and Pray" in which Prof. Dr. Saadettin Yıldız who is the Dean of Faculty of Science and Literature in TRNC Lefke European University participated as the speaker was held in HİTÜ MYO Ethem Erkoç Conference Hall by Faculty of Arts and Sciences Department of Turkish Language and Literature. Our university rector Prof. Dr. Reha Metin Alkan, the head of Technical Vocational School Prof. Dr. Menderes Suiçmez, the dean of Arts and Sciences Faculty Prof. Dr. Emre Güler, the academic and administrative staff, students and Çorum people showed great interest. 
The conference started with respect and the March of Independence and our university Head of Turkish Language and Literature Department Assoc. Prof Dr. Meral Demiryürek made the opening speech and she reminded the words of Arif Nihat Asya "I am being thought, therefore I'm." 
After the opening speech, the audiences listened to the "Flag" poem of Arif Nihat Asya from his voice and then "Pray" poem from the voice of our president Recep Tayyip Erdoğan with impressive videos.
 Prof. Dr. Yıldız says "There are many intellectuals who will prepare for the future of Turkey, and grow from their younger age in the hall. We need these people. Organizing such a memorial meeting is a sign of great loyalty. The greatest blessing that artisans leave to us is the consciousness of building the future. Otherwise, art would lose its meaning. I am talking about Arif Nihat Asya and in this way, I am carrying out my duty of loyalty for him." 
Prof. Dr. Yıldız continues "The artist looks at the world differently. This is the most important feature that distinguishes it from us, that is, ordinary people. Despite the fact that there are many people with the same height, weight and attitude as an artist, he is an artist because his view of the world is different. The person who can interpret differently, tell differently, can see differently can be an artist. Therefore, Arif Nihat Asya is an artist." 
At the end of his speech, Prof. Dr. Yıldız shared the photos of the important documents regarding the life of Arif Nihat Asya, his handwriting and his papers which he wrote in typewriter. Furthermore, Prof. Dr. Yıldız read the poem "Pray II" which is not known by many people, however, is very meaningful and convenient when considering the present conditions. 
After the conference, Prof. Dr. Saadettin Yıldız visited our Rector Prof. Dr. Reha Metin Alkan in his office and thanked him for his kind invitation.
 In order to reach the video of "Pray" poem by Arif Nihat Asya, click here.
Hitit University Rectorate
Kuzey Kampüsü Çevre Yolu Bulvarı 19030 Çorum / TURKEY