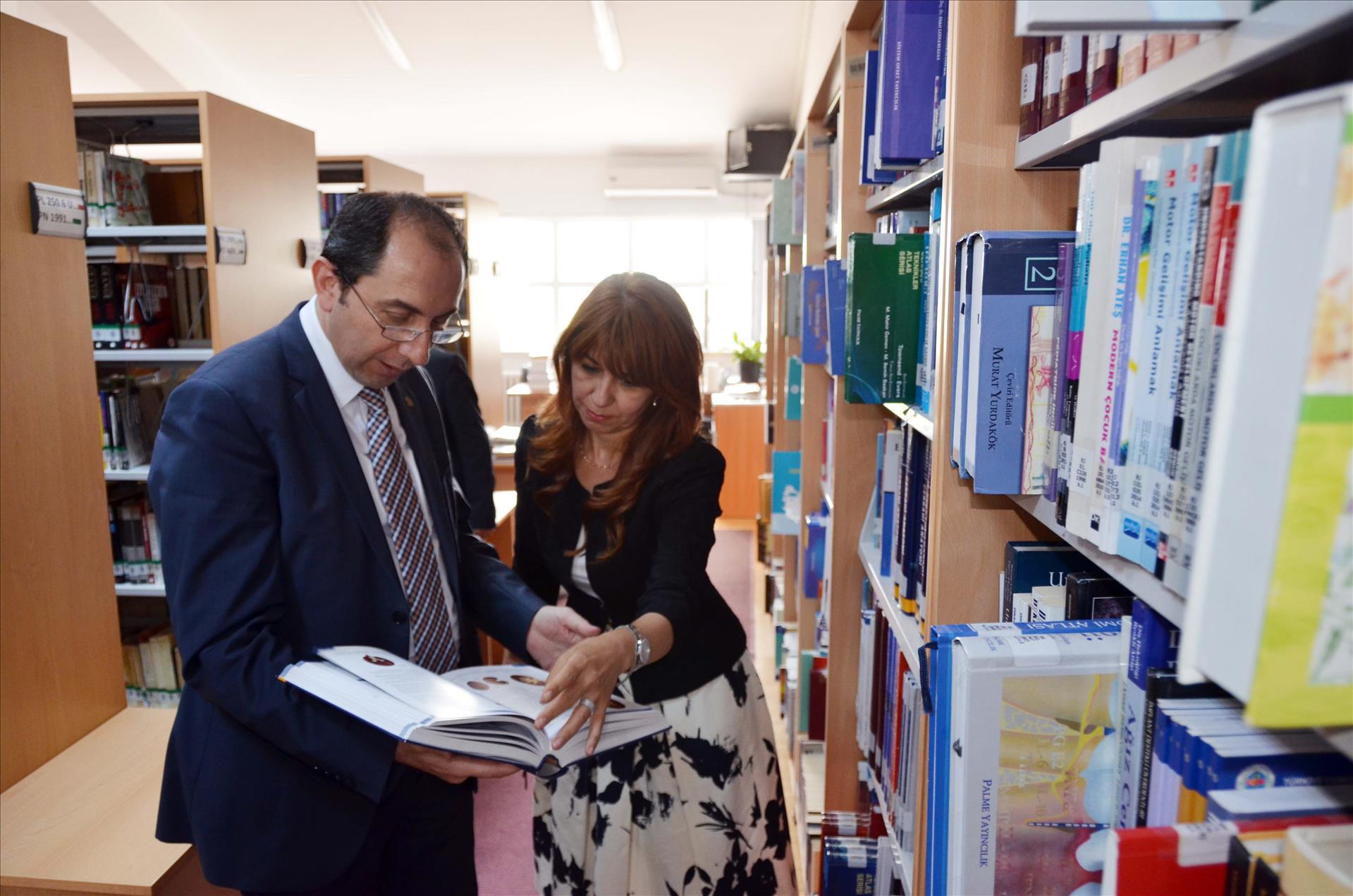 In accordance with the belief that libraries are the concrete indicators which shows the development of the universities in education, research and science, Hitit University has made investment for our library. Any request from our academicians for supplying books is instantly evaluated and most of the books requested is provided within the opoortunities. The books are placed to serve for our academicians and students. 
Visiting the library with Vice-Rectors Prof. Dr. Mustafa Bıyık and Prof. Dr. Nurcan Baykam, Our Rector Prof. Dr. Reha Metin Alkan came together with the librarians. After getting information about the works in the library, our Rector stated that our library  showed great progress with professional library services and rapidly growing publications collection and might be one of the best libraries in our country. The Rector says "We provide an access to a tremendous source of information with the printed and electronic publications for our academicians, researchers and students. However, we have a long to go as the country when we have a look at the libraries in developed countries. In the USA which has the largest economy and where more than the half of the world science is produced and in the world's largest library - The American Library of Congress, there are almost 30 million printed books. This number is 18 million in Harvard University. Approximately 13 million books take place in our country libraries and this number is less than the number of the books in Harvard University. Therefore, we have to fulfill our duties in the best way. Our book purchases in accordance with the demands of our teaching staff will continue after that." 
As a result of studies, the number of printed and e-magazines has reached 45.560 which was 15.617 in 2010with a 191,73% increase. Also, the number of printed and e-books is 379.028 which was 100.941 in 2010 with a 275,49% increase. The total number of printed and electronic publications has reached 424.588 which was 116.558 in 2010 with 264,27% increase. 
Also, access to nearly 50 databases including millions of magazines, thesis, article and academic studies thanks to more widespread use of electronic books all over the world is provided easily from anywhere with internet access. In accordance with the requirements of the age and for an education and research infrastructure which can compete with the world, it is important for our university to have an infrastructure which is accessible to printed and electronic sources and presented to the users' service 7/24. 
The publications which take place in our university libraries can be reached from our library webpage.
Hitit University Rectorate
Kuzey Kampüsü Çevre Yolu Bulvarı 19030 Çorum / TURKEY