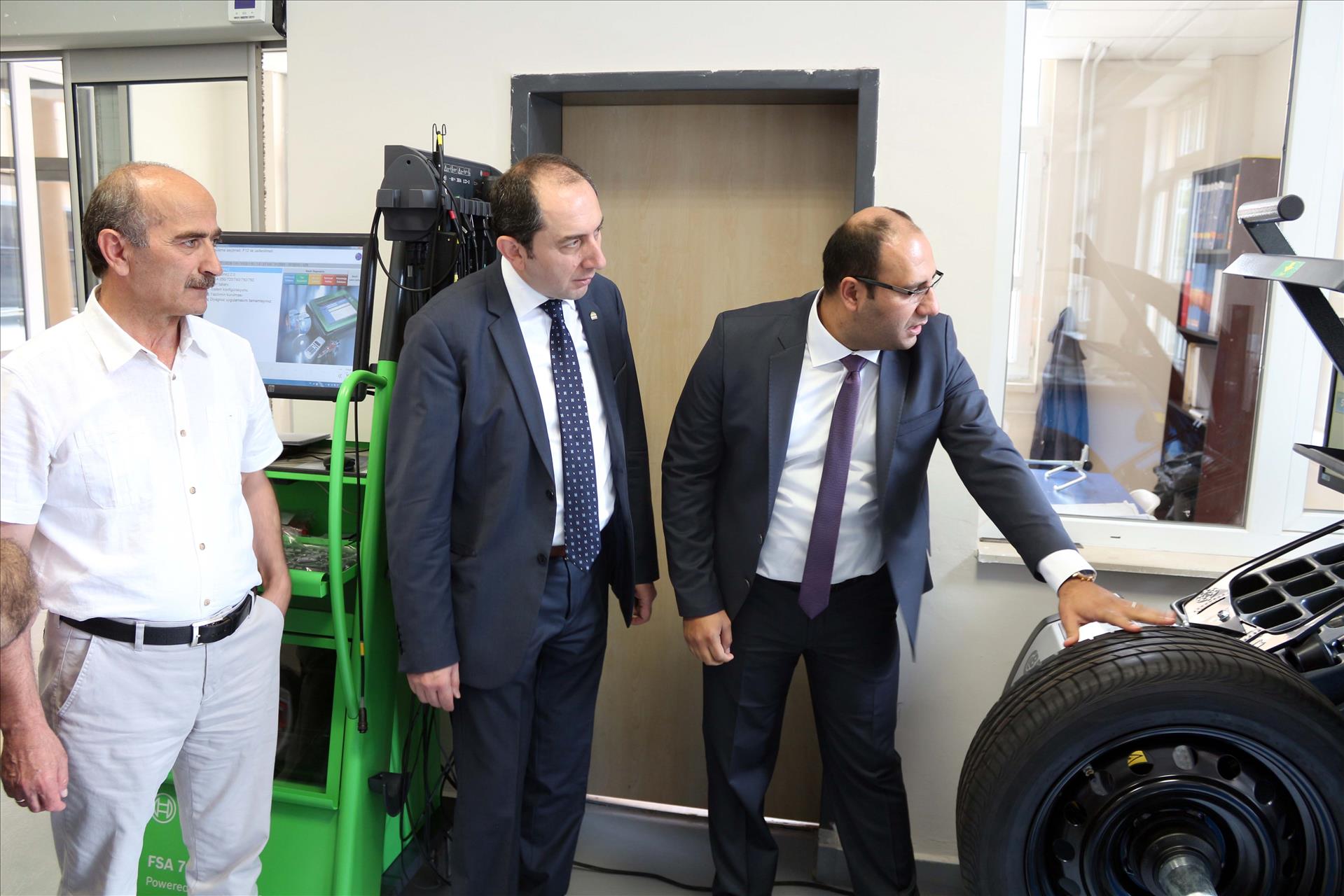 Our university rector Prof. Dr. Reha Metin Alkan visited Motor Vehicles and Transportation Technologies department which is one of the first departments of Technical Sciences Vocational School. 
During the visit in which Technical Vocational School Director Prof. Dr. Menderes Suiçmez, Head of the Department of Transportation Technologies Assist. Prof. Dr. Seyfi Polat and the academic staff of the department attended, our rector Prof. Dr. Alkan says "Motor Vehicles and Transportation Technologies department is one of the first departments which was established in Vocational School in 1979. The occupancy rate of the department which students have intense interest in has reached 100% in recent years. This is the best indicator of a qualified education. While this sector is developing in the world and country, the qualified graduates of this department will have the opportunity to work in international companies. We are constituting laboratories with the latest equipments especially HÜBTÜAM(Hitit University Scientific and Technical Research Center)  which costs 30 million TL in order to support the courses given theoretically. The Automotive Workshop now we are in is equipped with the latest technology and is designed to train technical staff with the technical information needed by all companies in these sectors." 
Furthermore, Rector Prof. Dr. Alkan said that the students are provided to attend in technical tours to Man Truck Factory, Temsa Bus Factory, Turkish Tractor Factory, Genpower Generator, Mutlu Battery,  AutoShow Exhibitions and Inspection Stations so that they can follow the latest technology and examine the workflow in the automotive sector. Also our rector Prof. Dr. Alkan gave information about the university-sector coopeartion and his meetings with FIAT CEO Cengiz Eroldu, Interior Unit Director Altan Aykaç, President of the Karataş Automotive Management Board Erol Karadaş and FIAT managers who will support students to receive training in the real place besides the theoretical training before they have graduated. 
In the laboratory visit, Head of the Department of Transportation Technologies Assist. Prof. Dr. Seyfi Polat gave information about the laboratory. He says "The physical conditions of our laboratories have been improved by major renovations in 2015 in order that our students can continue their education in a more clean, tidy and safe environment. In addition to investments for improving the workshop facilities, all kinds of support are provided in the development of the academic staff. 2014 model Toyota brand new automobile taken from Toyota Factory is being only used for education. In order to follow the latest technology within the BAP(Scientific Research Projects) Projects; 
- Professional diagnostic device, 
- Dual-stage lift vehicle lift, 
- Wheel alignment equipment,
- Wheel balancing device, 
- Vehicle and engine sections,
- Petrol and diesel engines,
- Required for the charger and maintenance tools and accessories
have been bought. With the contribution of Çetin Başaranhıncal who is the director of Çorum Trade and Industry Chamber, two Fiat cars section complete, zero gasoline and diesel engines, mechanical and automatic transmissions and many auto parts that can be used for educational purposes have been granted by Tofas Turkish Automobile Factory Inc. We would like to thank everbody especially our Rector Prof. Dr. Reha Metin Alkan who lent support."
Hitit University Rectorate
Kuzey Kampüsü Çevre Yolu Bulvarı 19030 Çorum / TURKEY