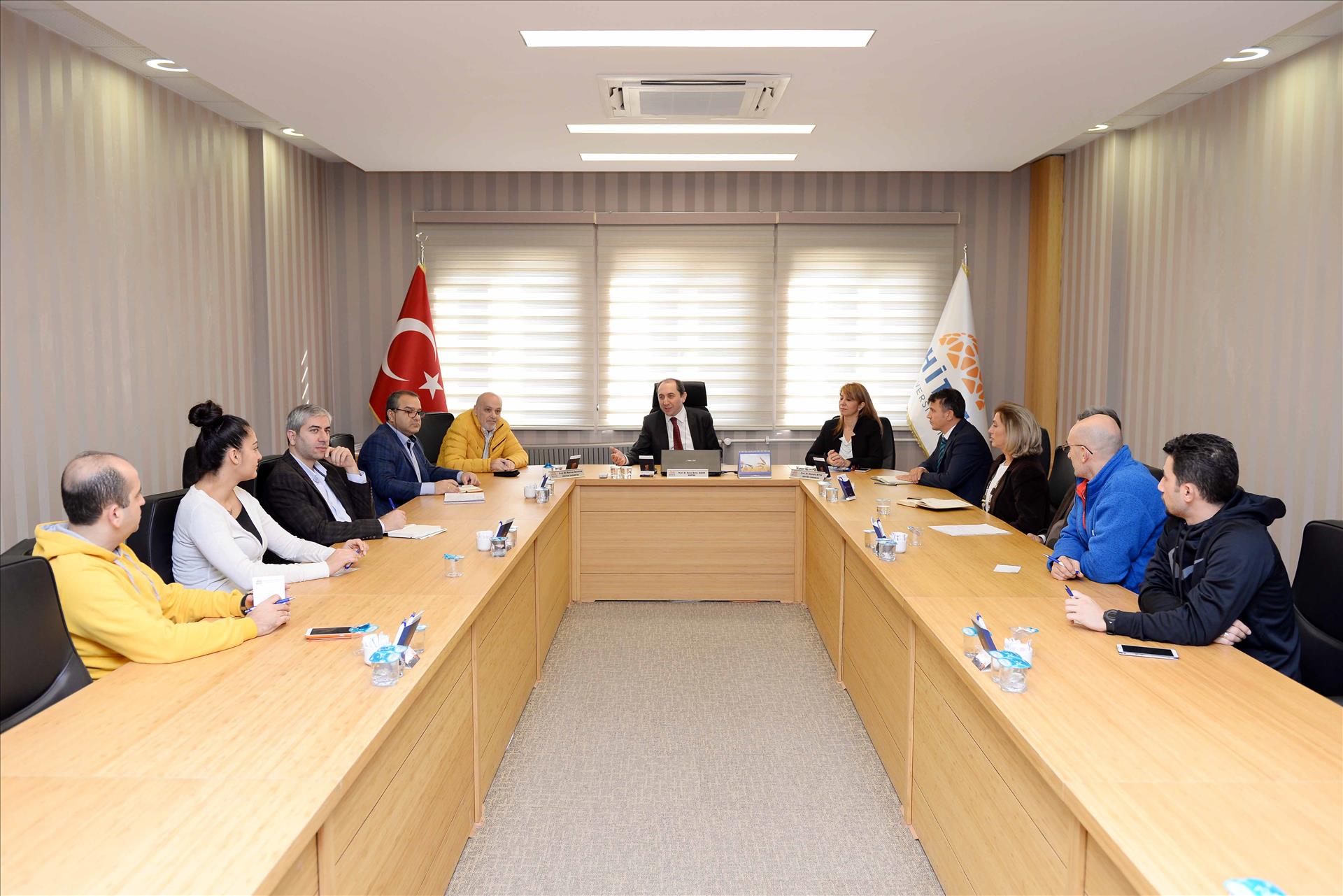 Our university, which continues to its infrastructure projects in full swing, makes great investments in the sports field as it is in almost every field.
Hosting "12th World University Wrestling Championship" and "11th World Wrestling Championship" European Universities Futsal Championship "and many other national and international organizations, our university shows that it can host all kinds of national and international competitions.
At this point, dean of the Faculty of Sport Sciences Prof. Dr. Faruk Yamaner together with the teaching staff met the Rector Dr. Reha Metin Alkan to share information regarding sports activities and using sports fields.
During the meeting; Dean of Faculty of Sports Sciences Prof. Dr. Faruk Yamaner stated that they are ready to create all kinds of infrastructure necessary for the faculty to perform all kinds of planned activities.
Our Rector, who stated that the opportunities of our university are expanding with each passing day. Dr. Reha Metin Alkan emphasized that our sports hall which is located in the Faculty of Sport Sciences and which has physical infrastructure in which all kinds of indoor and outdoor sports competitions can be held. Our sports hall in the campus of Science and Literature Faculty and all the projects planned to be completed in the following periods are in the service of our students with academic and administrative staff.
Stating that both sociological as well as health-related sport activities are very important, Rector Professor. Dr. Alkan explained that a program will be created by our Faculty of Sports Sciences to enable our academic and administrative staff to work with our sports facilities and that our facilities will be in the service of all our staff within the timeline to be determined as soon as possible.
Hitit University Rectorate
Kuzey Kampüsü Çevre Yolu Bulvarı 19030 Çorum / TURKEY