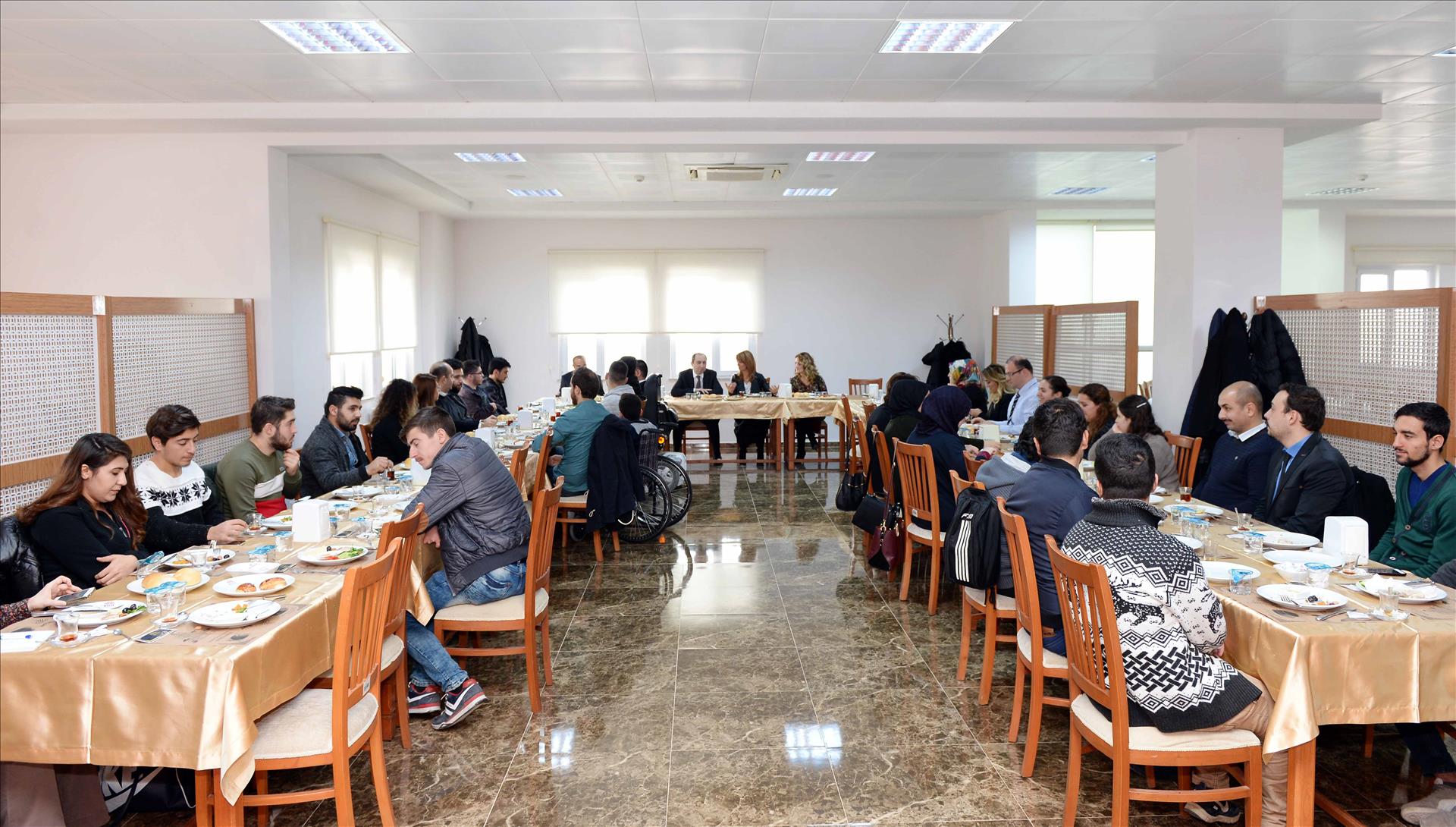 Our Rector Dr. Reha Metin Alkan, Disabled Student Unit Representatives and students came together in the breakfast program.
Rector Prof. Dr. Reha Metin Alkan, Vice Rector Prof. Dr. Nurcan Baykam, Coordinator of the Disability Student Unit Assist. Prof. Dr. Selen Özakar Akca, Students with Disability attended the meeting.
In the program, as the Coordinator of Disability Student Unit, students were informed about the common projects that could be realized with the aim of producing solutions to their problems as soon as possible.
Our Rector Dr. Reha Metin Alkan talked at the meeting that in our developing country, the most important element of our future is the educated human power and that it is the duty of the universities at this point that it is the possession of the word all around the world especially in the close geography. In this context, with almost 20,000 students and nearly 1,500 academic and administrative personnel of the University, we have signed a significant distance in this way. Dr. Alkan reminded that these developments have been documented by evaluations made by independent institutions.
Rector Prof. Dr. Alkan, with the University Student Coordinator, created a more professional approach to the topics and emphasized that they are working hard in order to give technical and social support to our students with disabilities. "Our university always supports our students for all the needs during their education life. All of our buildings that are completed and ongoing are designed to meet the needs of our students with disabilities and our staff, so that our students can continue their studies in much better quality environments. As Hitit University, we will strive to act in cooperation with our handicapped personnel and students to support disabled people to take part in the social life in a happy and peaceful way. "
It is also stated that studies on the opening of a student club on "awareness of rare diseases" in the direction of opinions, recommendations and requests from our students are also going on.
The Coordinatorship for the Disabled Student Unit of the University identifies the obstacles in front of the students' ability to maintain their academic life in an equal and effective way and creates an environment that supports the academic, social and personal development of the students by removing these obstacles. For this, our Disabled Student Unit provides equality in access to academic programs for our students, priority on needs for housing, equality for being involved in university life, and awareness about disability within the university.
Hitit University Rectorate
Kuzey Kampüsü Çevre Yolu Bulvarı 19030 Çorum / TURKEY