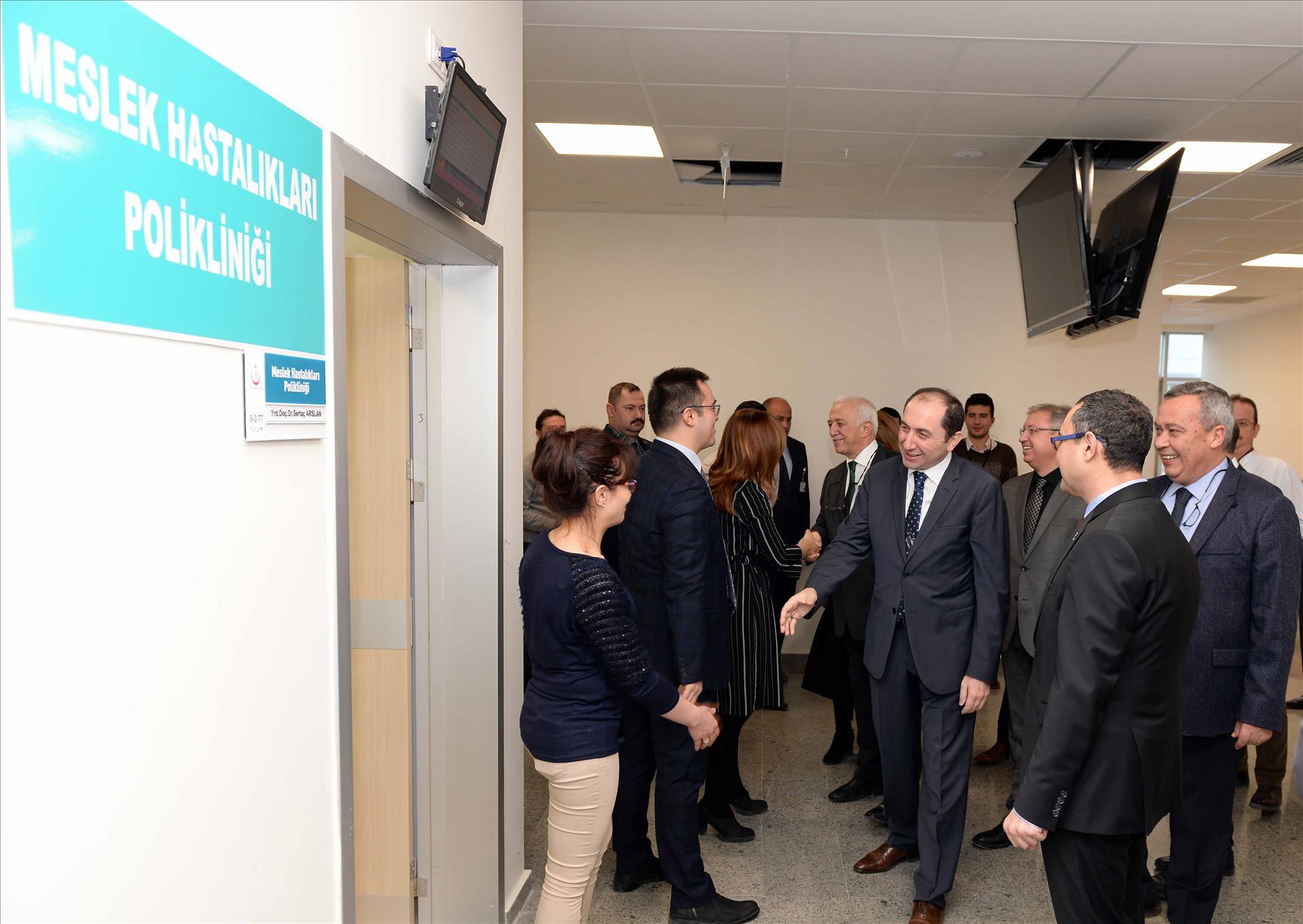 Following the completion of the required infrastructure, training and certification process, the Occupational Diseases Policlinic, which operates with a multidisciplinary approach, was opened at Çorum Erol Olçok Training and Research Hospital of the Ministry of Health Hitit University with the contribution of Çorum Provincial Health Directorate as an activity of Occupational Diseases Application and Research Center.
In this framework, Our Rector Prof. Dr. Reha Metin Alkan, visiting Polyclinic of Occupational Diseases, Department of Internal Medicine, Department of Internal Medicine, Faculty of Medicine, Department of Chest Diseases and Director of Occupational Diseases Application and Research Center received information about the services offered.
During the visit, Vice Rector Dr. Nurcan Baykam, Dean of the Faculty of Medicine Dr. Mete Dolapçı, Provincial Director of Health Op. Dr. Ömer Sobacı, Hospital Manager Assoc. Dr. Çağatay Evrim Afşarlar, Head of Department of Internal Medicine Dr. Meral Gülhan took part.
Information was given on the work done by Asst. Prof. Dr. Sertaç Arslan, "All suspicious cases related to occupational diseases in the region and the environment are first referred to the three major occupational diseases hospitals, namely the Ankara Occupational Diseases Hospital. As a result of this, both the patients do not know, there is no place to stay in a large number of victims, as well as the loss of work in the process caused by the loss of economic losses in the past, "he said that the appropriate infrastructure in the province of Polyclinics is active in the region of Çorum and surrounding areas,  he also said he would carry out the relevant processes regarding employee health and prevent the transfer of patients to the other hospitals.
In the Occupational Diseases Polyclinic which is the unit of the Occupational Diseases Practice and Research Center established in our university, patient diagnosis, treatment and follow-up services have been started to be actively provided and a significant deficiency in public health and occupational health in Çorum province has been eliminated.
Aim of Hitit University Occupational Diseases Implementation and Research Center, founded in 2016:
To follow the developments in the field of research and development activities and occupational diseases, to carry out researches related to occupational health, safety and occupational diseases which are the main components of industry and production, to transfer research results to practice, to work on the treatment and prevention of occupational diseases, to create a strategy to prevent occupational diseases and to make research and education studies to direct workers and employers and to create a substructure that can carry out quality and standardization inspections in materials used in production, to respond to institutional and individual requests, prevention of occupational diseases, diagnosis and treatment, to provide individual consultancy services.
Hitit University Rectorate
Kuzey Kampüsü Çevre Yolu Bulvarı 19030 Çorum / TURKEY