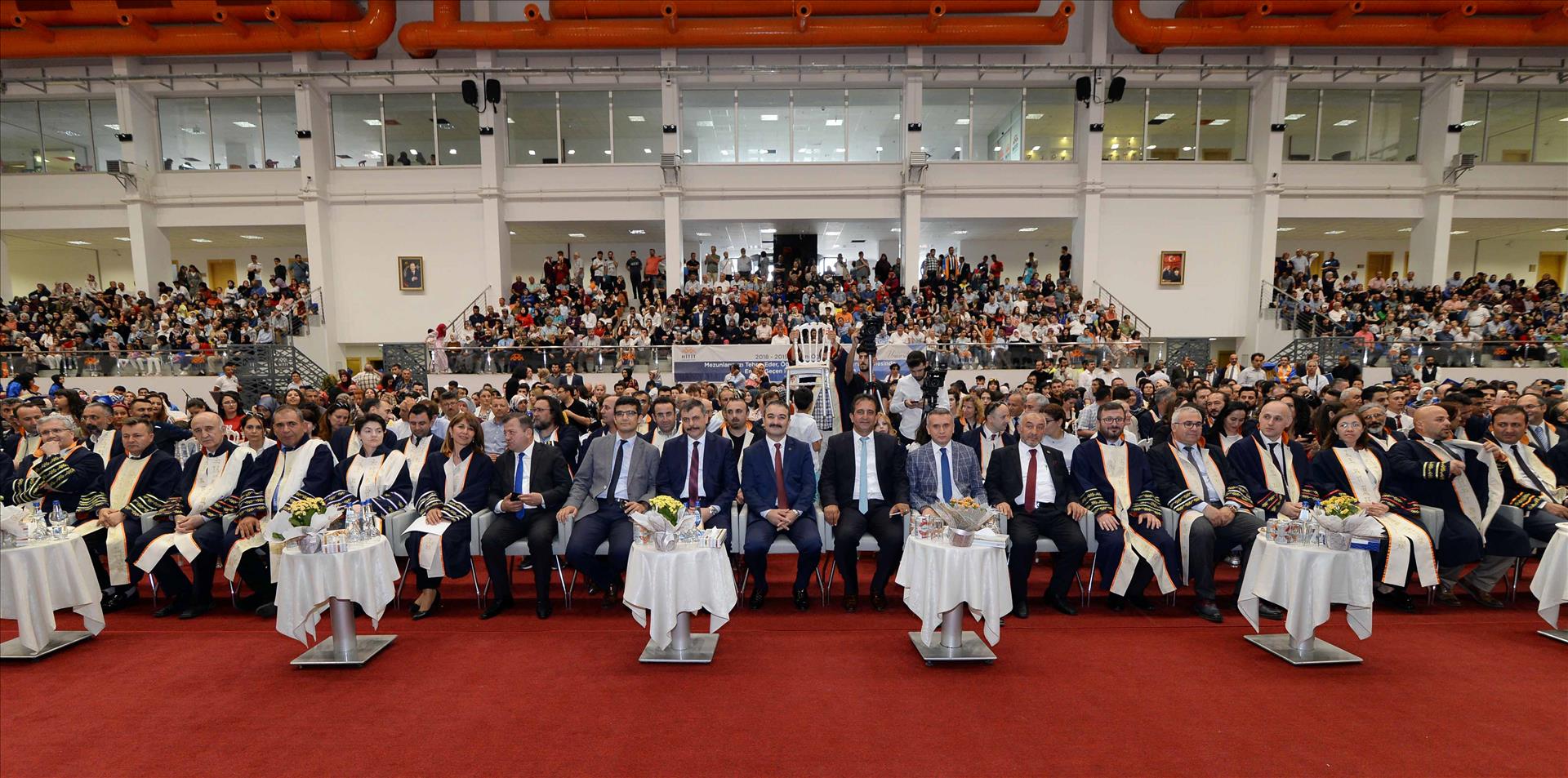 2018-2019 Academic Year Graduation Ceremony of our University was celebrated with enthusiasm at the 15 July Sports Complex of the Faculty of Sports Sciences.

The ceremony was held with the participation of Çorum Governor Mustafa Çiftçi, Chief Prosecutor Ahmet Fatih Ağca, Çorum Deputy Mayor Ismail Yağbat, our Rector Prof. Dr. Ali Osman Öztürk, Çorum Deputy Mayor Lemzi Çöplü, Provincial Assembly Chairperson Osman Günay, Çorum Chamber of Commerce and Industry Chairman Çetin Başaranhıncal, representatives of public institutions and organizations, faculty members, students and students' parents.
Following a moment of silence and the National Anthem, the ceremony continued with the speech of Yeter Adıgüzel, the highest ranked student of 2018-2019 Academic Year.
Rector Prof. Dr. Ali Osman Öztürk, who made the opening speech of our Graduation Ceremony, said: "I would like to thank everyone on behalf of myself and my University for sharing our joy on this meaningful day where we experienced the excitement and pride of celebrating our 2018-2019 Academic Year Graduation Ceremony. I would like to express my gratitude to our President Recep Tayyip Erdoğan, who handed over the duty of Rector of Hitit University to me."
Stating that education is one of the most important factors affecting the development levels of the countries where continuous change and transformation is taking place today, our Rector Prof. Dr. Öztürk pointed out that studies were carried out with this awareness at Hitit University. Within this framework, Rector Prof. Dr. Öztürk stated that our university has successfully carried out its educational activities with more than 19.000 students and said, "Our University has made a great contribution to Çorum with its studies and will continue to provide with an increasing momentum in the future".
Underlining that all the dynamics of the country are needed for our country's further development, growth and to be involved in every field, Prof. Dr. Öztürk emphasized that we all have tasks to reach 2023 and 2071 targets set out by our Dear President Recep Tayyip Erdoğan to become one of the few countries developed economically, having no dependence on foreign countries, and being among foremost countries in science and technology.
The ceremony continued with the oath of students graduated from Faculty of Medicine and Faculty of Health Sciences. Temporary graduation certificates and awards were presented to the top three students in undergraduate and associate degrees.
After the award presentation, the new graduates of our university shared their joy of graduation with their families by throwing their caps together.
Hitit University Rectorate
Kuzey Kampüsü Çevre Yolu Bulvarı 19030 Çorum / TURKEY