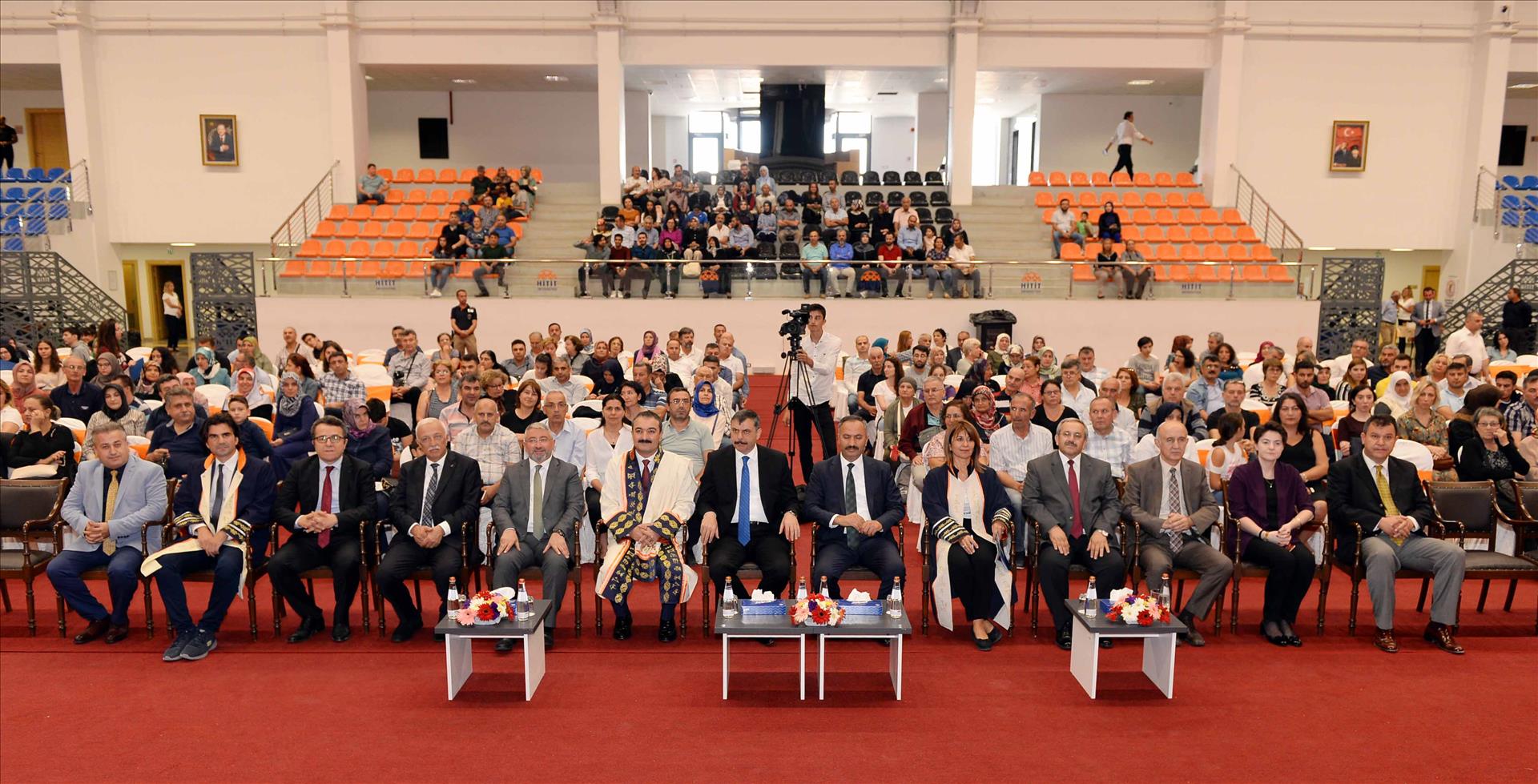 White Coat and Student Oath Ceremony was organized for 120 students who have just started the Faculty of Medicine, which is one of the most preferred academic units of our university.
Çorum Governor Mustafa Çiftçi, Çorum Mayor Dr. Halil İbrahim Aşgın, our Rector Prof. Dr. Ali Osman Öztürk, Council of State 10. Department Head Yılmaz Akçil, Vice Rectors Prof. Dr. Nurcan Baykam and Prof. Dr. Halil İbrahim Şimşek, Provincial Health Director Surgeon Ömer Sobacı, Çorum Chamber of Pharmacists President Sönmez Çalışkan, Medical Chamber President Assoc. Prof. Dr. Çağatay Çağlar, our academicians and 120 new students of the Faculty of Medicine and their families attended to the ceremony held in 15 July Sports Complex, Faculty of Sport Sciences.
Rector Prof. Dr. Ali Osman Öztürk wished that the new academic year would be beneficial.
Stating that Hitit University contributes to higher education with its 11 faculties, 3 graduate schools, 1 school and 7 vocational schools in 223 programs, Prof. Dr. Öztürk said, "Hitit University is both determined and competent to take all the steps without compromising its young and dynamic structure in order to make invaluable contributions to Turkish higher education with the potential of more than 19 thousand students. So let your precious families know that your children are in really safe hands.  We will always stand by them with all our faculty members." 
The number of students of the Faculty of Medicine has reached 350
Reminding that Hitit University was founded in 2006, Prof. Dr. Öztürk said, "We're talking about a 13-year-old university. Our precious medical faculty was established in 2006 but its structure was left to time. With the cooperation agreement signed with Gazi University, we started to accept students for the first time in 2009-2010. Our first students started their education at Gazi University. Until 2017. We met our first students in 2017. At that time, we started with only 62 students, but now we are with 350 medical students." 
Emphasizing that the medical faculty has made great progress in the short term, Prof. Dr. Öztürk thanked to our previous Rector Prof. Dr. Reha Metin Alkan and our founding Dean Prof. Dr. Mete Dolapçı and local authorities, members of parliament, and NGO representatives who contributed to the foundation process.
Prof. Dr. Öztürk: "We have a hospital that can respond to 2.500 polyclinic cases a day."
The Rector stated that a remarkable cooperation has been carried out within the framework of the agreement made between Hitit University and the Ministry of Health Erol Olçok Training and Research Hospital since 2012.
Prof. Dr. Nurcan Baykam, Vice Rector of the University and Deputy Dean of the Faculty of Medicine, stated that the laboratory infrastructure created for our students and qualified academic staff is of great importance for our Faculty of Medicine to make great progress in a short time.
In her speech, stating that they act with an understanding based on merit that brings the internationally recognized professors who are competent in their fields, Prof. Dr. Nurcan Baykam said, "This understanding, which our Rector Prof. Dr. Öztürk attaches great importance to, is our most important guarantee in the progress of our medical faculty."
120 Students Swore in White Coats
Following the speeches, Coats were introduced to our new students of the Faculty of Medicine. 
Çorum Governor Çiftçi congratulated the students and said, "You have been greeted with a beautiful ceremony. I've been a civil administrator for 23 years and I've finished 5 faculties but no one has ever said welcome to us in this manner. Today you wore coats, I wish that you will graduate successfully and become a doctor."
Mayor Dr. Halil İbrahim Aşgın stated that they are working to improve the life comfort of the students studying in Çorum as the mayor and congratulated the students who will start the medical faculty.
The ceremony ended after students swearing medical oath.
Hitit University Rectorate
Kuzey Kampüsü Çevre Yolu Bulvarı 19030 Çorum / TURKEY