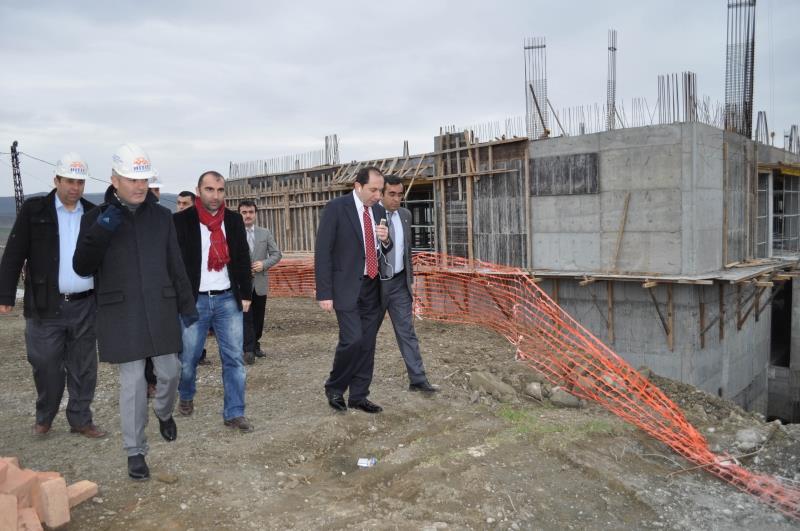 Our Rector Prof. Dr. Reha Metin Alkan examines Sungurlu Vocational School Campus in order to see the latest situation. He says Sungurlu Vocational School Campus Site construction having been laid the foundation in June 27, 2014, is rapidly proceeding and he estimates the first stage will be completed by the end of 2015. Rector Prof. Dr. Alkan explains that there are almost 900 students in Sungurlu Vocational School with 8 programmes, 6 of which are mainstream education and 2 of which are evening education and students will be accepted to the new programmes approved by the council of higher education (YÖK) upon completion of the construction in campus.
Rector Prof. Dr. Alkan says they assign a land in the campus to Credit and Dormitories Agency(KYK) for higher education dormitory and also adds that 300-person dormitory will be built by KYK soon.
Rector Prof. Dr. Alkan says " After 1st stage works, we will start to build 2nd stage construction and all these will quickly be completed within support promise of benevolent citizens in Sungurlu. I believe qualified habitats closely affect people's works. When the constructions of our campuses and builings are completed, they will be in international standards, environmentally friendly and energy-saving oriented."
Rector Prof. Dr. Reha Metin Alkan thanks everybody who has contributed and will contribute to these works especially Sungurlu Vocational School Director Ass. Prof. Dr. Kubilay Karacif and school staff.
Hitit University Rectorate
Kuzey Kampüsü Çevre Yolu Bulvarı 19030 Çorum / TURKEY