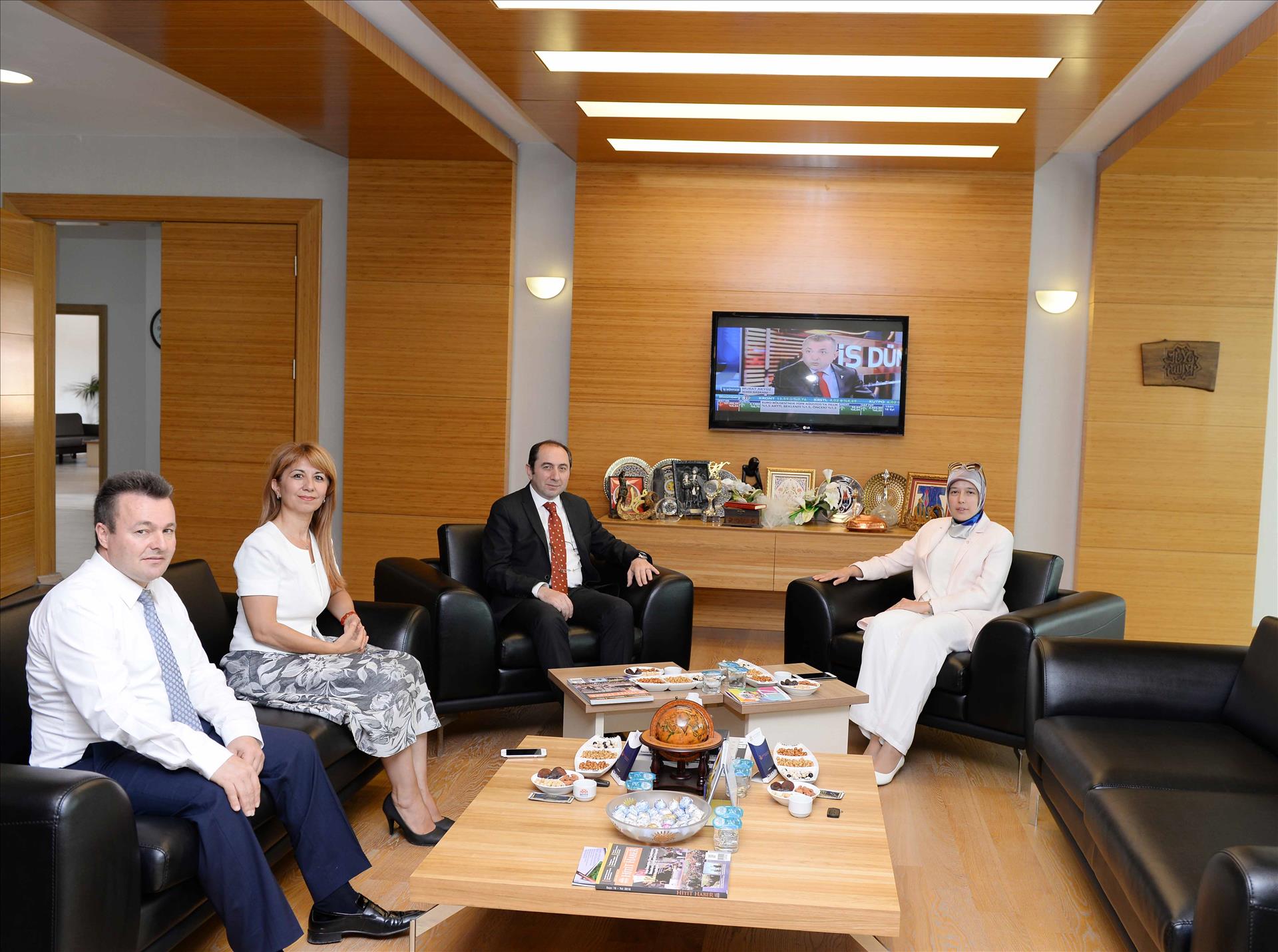 "White Apron Wearing and Student Inaugural Ceremony" was held at the Faculty of Medicine Dean Sports Hall to begin the training of 62 students in 2017/2018 Academic Year.
Before the ceremony, CoHE Executive Committee Member Assoc. Dr. Zeliha Kocak, visited Rector Prof. Dr Reha Metin Alkan in his office.
Corum Governor Necmeddin Kılıç, Corum Deputy and Parliament Administrative Director Salim Uslu, Corum Deputy Ahmet Sami Ceylan, Corum Deputy Lütfiye Ilksen Ceritoğlu Kurt, Mayor Muzaffer Külcü, Board Member of CoHE Assoc. Dr. Zeliha Kocak, Rector Prof. Dr. Reha Metin Alkan, Provincial Garrison Commander Cetin Ocal, Provincial Gendarmerie Commander Abdurrahman Başbuğ, AK Party Provincial Chairman Lawyer Mehmet Karadağ, principal and representatives of various institutions and organizations, faculty members of the Faculty of Medicine, faculty members, students, parents and members of the press participated in the ceremony.
The ceremony which started with the reading of the independence of our independence and the establishment of a silence, continued with the opening and protocol talks.
The opening speech of the ceremony was presented by Prof.Dr. Dr. Mete Dolapçı. Professor Dr. Mete Dolapçı, the dean of the Medical Faculty, said three important things, "one to provide health services, another citizen to raise awareness about health and most importantly to train physicians. We could do the first two missions desperately."
Professor. Dr. Dolapçı indicated that they have formed a 6-year curriculum suitable for accreditation; they had a faculty with the latest equipment with classrooms, library, anatomy and multi-disciplinary lab. Professor Dr. Dolapçı added that the students entrusted to them will be educated as qualified doctors who will receive good education in international standards at the end of 6 years and serve the country and its citizens. Dr. Dolapçı conveyed his gratitude to Rector Prof. Dr. Reha Metin Alkan.
Hitit University Rectorate
Kuzey Kampüsü Çevre Yolu Bulvarı 19030 Çorum / TURKEY