HİTÜ with Numbers: On the Path to Becoming a "World University" with Exchange Programs
Internationalization in higher education is a natural and inevitable result of globalization. Today, as an indication of the globalization of higher education experience, universities' internationalization in their strategy plans, global student mobility and globalization strategies, are among the fastest growing operational politics of our time.
According to the report prepared by the Center for Development Studies within the Ministry of Development, the number of international students in the world in the 1970s, which is around 800 thousand, has reached four and a half million today. It is predicted that this figure will double in 2020.
Many factors such as globalization and increase in transportation and access opportunities have created a global network of interaction in the field of higher education. The world is witnessing global mobility today. Cross-border student and academical mobility assure cultural fluidity. The integration of universities from different countries and continents with each other is an added value in terms of enriching the education-training environment and increasing the quality.
The number of international students studying in our country is around sixty thousand. The number of international students studying at Turkish higher education institutions is only one percent of the total number of international students in the world. A large part of these students come from countries with historical and cultural ties in close geographical areas. At this point, it is clear that our higher education system needs to be structured in a diversified, competitive structure and the quality-focused manner in order to increase international recognition.
Our University, which is aware of the importance of advancing in a rapidly globalizing world and being able to get out of national borders in order to have a say in international platforms and to be able to provide appropriate information, communication technology and human power in education in global competition and to be a "world university" has adopted internationalization as one of its main objectives in the framework of the vision of Turkish Higher Education in 2023, 2053 and 2071. In this respect, it attaches great importance to improving the quality of education and research in order to bring an international career to its students. While one side wishes that their students and staff recognize international cultures and educational environments and gain international experience; the other side aims to create a settlement area where the international interaction and communication is at a high level.
Undoubtedly, one of the most important elements of internationalization in universities is exchange programs. Exchange programs aim to bring together different cultures into academic and social pockets by strengthening cooperation among higher education institutions. Hitit University, believing in the universality of science and the importance of international interaction, has signed a number of agreements with universities abroad and the Erasmus + and Mevlana exchange programs on the way to becoming a "World University". International participation in organizing and participating in events is also increasing. Our university has signed agreements with a number of universities both abroad and in our country in the framework of bilateral or exchange programs, our students have been educated in a different university for one or two semesters and our academic staff have participated in foreign events such as training and teaching programs. The number of bilateral agreements that our university has made with international universities in 2011 was only 2, in line with the commitment of the university administration in this regard; this number has increased to 63 in 2015 and to 66 in 2017.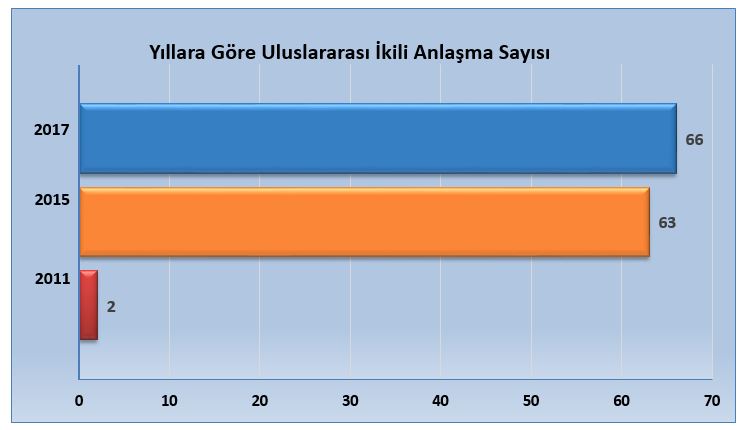 The most popular exchange program is Erasmus+. Through this program, students have a wide range of courses and study programs. For students who study abroad through the program, being a part of Erasmus+ means to gain experience of living in a foreign country for a limited time and to meet new people. Thanks to this program, our students are able to develop their foreign languages in the country. They are also one step ahead of their peers, adding these experiences to their biographies. For this reason, a special emphasis is given to the exchange programs at the University. By the end of 2017, a total of 322 students were offered the opportunity to study and to do internships at European universities. In the same context, 126 academic and administrative staff participated in the training and teaching activities at the universities where the agreements were made.
Our university has increased the number of Erasmus+ agreements to 24 in 2015 and to 29 in 2017 when we made 8 agreements under Erasmus + in 2011.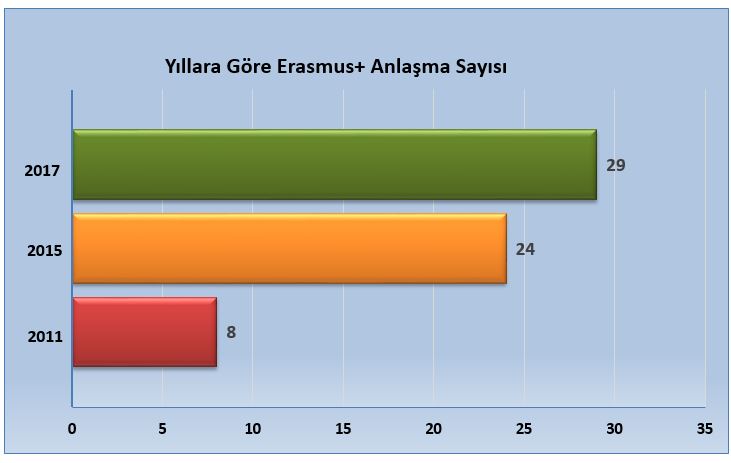 Under Erasmus+, 27 students in 2011, 45 students in 2015 and 46 students in 2017 had the opportunity to study in a different institution.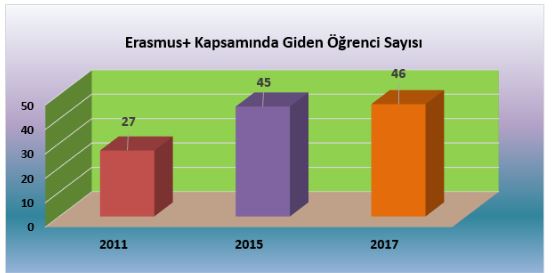 Within the scope of Erasmus+, many of our academic staff have benefited from the exchange program and have been in a different educational institution. 11 staff in 2011; between 2011 and 2013, a total of 113 staff benefited from this program.
On the other hand, the Student and Faculty Member Exchange Program among the Higher Education Institutions in our country called "Farabi Exchange Program" provides education and training activities in associate, bachelor's, master's and doctoral higher education institutions within the scope of universities and high technology institutes. The Farabi exchange program was found in a different educational institution in our country, benefiting from 19 students in 2011, 40 students in 2015 and 38 students in 2017.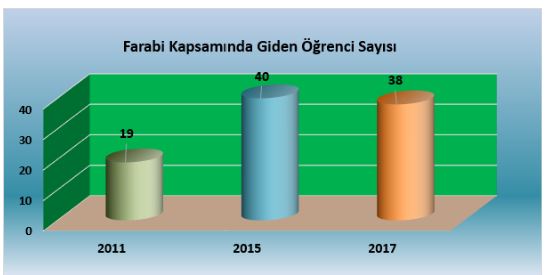 Up to now, the total number students of Farabi exchange programs has been 329, with 270 students attending from our university and 59 students coming to our university to study at other universities within the scope of the Farabi Exchange Program.
Through Erasmus+, Mevlana and Farabi exchange programs, as of the end of 2017, 592 students were able to receive education at different universities. In the same period, the number of students who came to receive our university education was 96.
Hitit University Rectorate
Hitit University Rectorate
Kuzey Kampüsü Çevre Yolu Bulvarı 19030 Çorum / TURKEY